Buddha Jayanti - Purnima Festival in India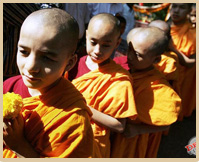 The Buddha Jayanti or the Buddha Purnima in India celebrates the birth, enlightenment and ultimate passing away of the Buddha. The festival is celebrated throughout the world, though, by different names. The most common of all these is Vesak or Wesak. In India, the festival is celebrated with great enthusiasm since, it is the land where the Buddha witnessed the miseries of the human life, renounced all His worldly pleasures, attained enlightenment and became the Buddha.

Bodh Gaya and Sarnath are two of the best places to enjoy the festival in the country, though celebrations take place at any place where the Buddhist population resides.

Buddha Jayanti in Bodh Gaya
In Bodh Gaya, the place where under the sacred Bodhi Tree He attained enlightenment, a whole lot of people from all over the world come to attend the ceremonies that take place. Throughout the day, prayer meets, sermons on the life of Gautam Buddha, religious discourse, continuous recitation of Buddhist scriptures, group meditation, processions, worship of the statue of Buddha and symposia take place. The Mahabodhi Temple is decorated to mark the special occasion.

Buddha Jayanti in Sarnath
Located in the state of Uttar Pradesh, Sarnath is famous as the place where the Buddha delivered His first sermon. On the day of Buddha Purnima, a large fair is organised in Sarnath which attracts a large number of people. Relics of the Buddha is brought out for public display in a procession. Apart from this, devotees make a beeline to offer their prayers at the Buddhist temples of Sarnath. They offer, fruits, flowers, candles etc to the statues of Lord Buddha and reaffirm their faith in the practice of Buddhism. The monks take part in prayers, sermons, recitation of Buddhist scriptures are other important religious activities to pay their respect to the great teacher.

Buddha Jayanti in Sikkim
In Sikkim, the festival is known as Saga Dasa and has Buddhist people visiting monasteries and listening to sermons and giving gifts to the monks. The monks, on their part involve themselves in day long readings of scriptures before the statue of the Buddha.

Buddha Jayanti in Delhi
In the capital city of the country, mortal remains of the Buddha are brought out from the National Museum on this day and is held for public viewing.

Buddha Jayanti in Sanchi
The Buddha Purnima Day in Sanchi sees the images and portraits of the Buddha being taken out in a procession.